Displays and Exhibits

With a veriety of biofacts, Canadian Reptile Encounters is sure to bring something for everyone at your event.

Displays allow for hands on and up close encounters with live reptiles in a safe and comfortable setting.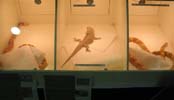 Displays & Exhibits
Canadian Reptile Encounters exhibits are a great addition to your event.
Available for single day or multi day events Canadian Reptile Encounters can fit a wide variety of spaces to fit your event! A stunning variety of animals are on display for attendees to visit as they please, ask questions, interact with and learn about these fascinating and misunderstood animals.
Here are some of the displays that will be touring in 2014! Display is selected by Canadian Reptile Encounters and varies based on presenter, venue and duration of exhibit.
Take a journey around the world with the Reptile World Tour!
Reptiles inhabit most of the planet and have adapted to live in many climates. Our reptile world tour display features animals from North America, South America, Australia and Africa. From the rainforests of the Amazon to the deserts of Africa a variety of animals are on display. In Alberta and Saskatchewan this display even includes animals found in our own backyards. Education on conservation and care as pets blend together for an interactive around the world reptile trip.
NEW FOR 2014! - Look to the trees with Amazing Arboreals!
Many reptiles thrive up high! From the very tops of the rainforest canopy to scurrying along the walls of buildings, many reptiles have adapted for life above ground. See green tree pythons, amazon tree boas, leachianus geckos, treefrogs, monitor lizards and more in this display of arboreal animals.
NEW FOR 2014 – Adventures in Adaptation! How do reptiles survive and thrive in such varied environments? Learn how desert lizards survive the scorching temperatures, how Alberta's snakes escape the bitter prairie winter, and how animals of the Amazon thrive in the rainforest. Discover how reptiles protect themselves through camoflauge, specialized tails, and other defense mechanisms. Featuring an assortment of reptiles from different environments this exhibit is a fun learning experience for all ages.
Canadian Reptile Encounter's exhibits blend live animals and educational displays for the ultimate reptile display!
Our exhibits feature biological artifacts like alligator and snake skull recreations, shed skins, hatched eggs and arachnid exoskeletons. Exhibits also include one or more of our educational displays allowing attendees to learn about animals from around the world, with a focus on conservation. Current displays include sea turtles & the iguanas of Mexico, the prairie rattlesnake & bullsnakes of Alberta, and a journey to cave of the hanging serpents in the Riviera Maya.
Large boas, pythons, dragons, geckos, tarantulas and amphibians are just a few of the animals that are on display!
We offer hands on opportunities to pet and learn about these fascinating creatures, and even have photos taken (additional fees apply.) Each animal has an information sheet with details on their native habitat and care.
Exhibits are available for malls, festivals, street fairs, exhibitions, rodeos, family fun days, holiday events, science centers and much much more. The exhibits can be combined with our stage shows for the ultimate reptile experience!
Our exhibits have appeared throughout Western Canada including , The Luxton Fall Fair (Victoria, BC), Hardisty Rodeo (Hardisty, AB), The Bow Island Children's Festival (Bow Island, AB), Wildcat Days (Elkford, BC), Settler Days (Coaldale, AB), Deathfest (Grande Cache, AB), The Calgary Pet Expo, Sunridge Mall (Calgary, AB). In 2013 we celebrated Canada Day at CFB Wainwright, AB, Vauxhall, AB, and Two Hills, AB. Canadian Reptile Encounters was also honored to supply live frogs and an living iguana display as well as presentations at TELUS World of Science - Calgary's Darwin & Einstein exhibit in 2010.
Rates vary depending on size of display and location. Contact us today to for availability and a quote.